I Am as Constant as the Northern Star
Sometimes I imagine a room filled with everyone I have ever loved and they are waiting for me. It is a Wednesday afternoon and I will have just returned from the market for a single carrot for stew.  I will be frazzled and annoyed at myself, because I had forgotten the carrot the first time, and I cannot betray my nature and just make do. It will be an afternoon in winter, snow already falling and I will stand too long in line behind all the Nashville folk clearing the shelves of milk and bread. When I arrive home, a great blast of wind will blow off my hat. When I finally reach the door, I will be cursing under my breath but by the time I close the door behind me I will be cursing wildly. Those I love who know me best will sing out 'Surprise'. The others, who themselves are wondering how it is they have gathered here, will shift foot to foot and shrug. 'Oh, it is you.' By then I will be smiling, going from person to person with my arms outstretched. I will open my mouth to thank them all, but I will sway and collapse, dying in that moment of delight and spite.
---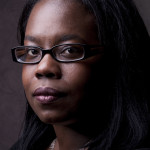 TJ Jarrett is a writer and software developer in Nashville, Tennessee. Her recent work has been published or is forthcoming in Poetry, African American Review, Boston Review, Beloit Poetry Journal, Callaloo, DIAGRAM, Third Coast, VQR, West Branch and others. She has earned scholarships from Colrain Manuscript Conference and Vermont Studio Center; fellowships from Sewanee Writer's Conference 2014 and the Summer Literary Seminars 2012 and 2014; the 2014 VQR Emily Clark Balch Prize for Poetry,  a runner up for the 2012 Marsh Hawk Poetry Prize and 2012 New Issues Poetry Prize; and her collection The Moon Looks Down and Laughs was selected as a finalist for the 2010 Tampa Review Prize for Poetry. Her debut collection Ain't No Grave  (finalist for the 2013 Balcones Prize and the 2014 Debulitzer Prize)  is published with New Issues Press  (2013). Her second collection Zion  (winner of the Crab Orchard Open Competition 2013)  was  published by Southern Illinois University Press in the fall of 2014.