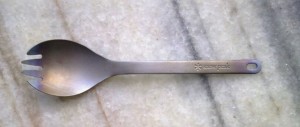 The first patents for sporks appeared in the U.S. in the late 19th century, as we transitioned from Downton Abbey to downtown factories. Sporks were likely reassuring at a time when a single diner could face scores of specialized utensils (bouillon spoon, fruit knife, oyster fork, porringer) at her place.

Having just one dining utensil option—spork—was a sign of loosening of social categories generally. In the same way, the spork today is one way Chef Olandi expresses his everyman approach to one-percent dining.
To read the full article please visit The Plate.