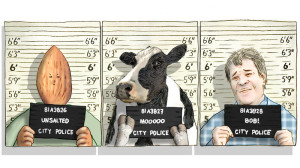 California is parched. Wells are running dry. Vegetable fields have been left fallow and lawns are dying. There must be some villain behind all this, right?

Of course there is. In fact, have your pick. As a public service, The Salt is bringing you several of the leading candidates. They have been nominated by widely respected national publications and interest groups.

There's just one problem: Not all of these shady characters live up to their nefarious job description. Let us explain.
To read the full article please visit The Salt.