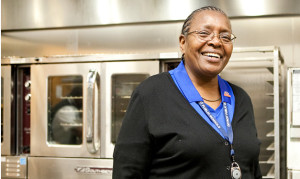 "One of the first things we did was turn the deep fryers off," Wiggins says. "There are certain foods I don't think we should be serving in schools. I don't serve hot dogs and corn dogs; I think that's carnival food."

Next she increased the servings of fresh fruits and vegetables. Once a week the students are introduced to a new raw vegetable. If they don't like the jicama, sugar snap peas, or asparagus the first time, it doesn't matter. As long as Wiggins continues to put new food on their plates, the kids will eventually eat them. Since 2009, the students have also been eating brown rice and enjoying Meatless Mondays with hummus, eggs or cheese.
To read the full article please visit Civil Eats.