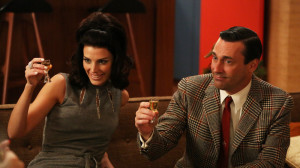 Yet, for a piece of pop culture that's basically credited with reviving public interest in stylish drinking, Mad Men's relationship with alcohol is characteristically complex. The culture of retro cocktails that the show reignited, or perhaps merely fueled, is intriguing, considering how much of the show is actually about excessive, even abusive drinking — a fact that gets lost among all those Manhattans.

It's also something that's gained undeniable poignancy with the announcement that Jon Hamm, the actor who portrays the alcoholic Don Draper so indelibly, recently emerged from a stint in rehab for alcohol addiction.
To read the full article please visit The Salt.