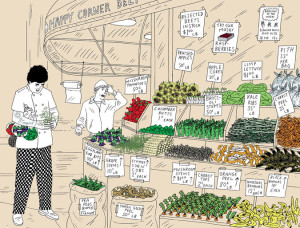 San Francisco may have been the first city to make its citizens compost food, but Seattle is the first to punish people with a fine if they don't. In a country that loses about 31 percent of its food to waste, policies like Seattle's are driven by environmental, social and economic pressure.

But mandated composting reflects a deeper shift in the mood of the nation's cooks, one in which wasting food is unfashionable. Running an efficient kitchen — where bruised fruit is blended into smoothies, carrot tops are pulsed into pesto, and a juicy pork shoulder can move seamlessly from Sunday supper to Monday's carnitas to a rich pot of broth for the freezer — is becoming as satisfying as the food itself.
To read the full story please visit The NY Times.