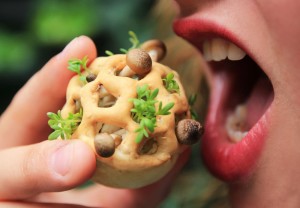 3-D printers are all the rage in the high-tech food world, turning out gorgeous sugar polyhedra and chocolate rosebuds – but if they're to address world food problems in the future, they're going to have to move into far more nutritious fare.

That's the idea behind Dutch designer Chloé Rutzerveld's Edible Growth project. Rutzerveld produces "living biscuits" – that is, 3-D printed, meat-ball-sized h'or d'oeuvres that are healthy, nutritious, natural, and – well, alive. They look a bit like little whiffle balls, but with sprouts and mushrooms.
To read the full article please visit The Plate.