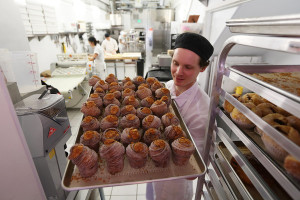 It takes three days to make a cruffin, a muffin-croissant hybrid that is the signature of Ry Stephen, a 28-year-old pastry chef. His shop, Mr Holmes Bakehouse, has been open three months and inspired a wild following, with customers lining up early to buy the ice-cream-cone-shaped cruffins, which reliably sell out before the line is gone.

Now, the tempting sweet may have inspired a crime. Overnight last week, a thief stole the recipe for cruffins, and Mr. Stephen's 230 other recipes, from binders in the bakery's kitchen. Nothing else in the store was touched: not money, valuable baking equipment, an iPad or other computers.
To read the full story please visit The NY Times.