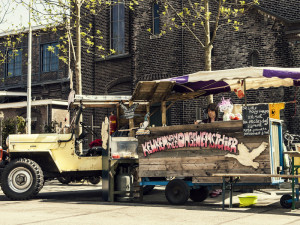 Every region of the world seems to have a local critter dish liable to raises visitors' eyebrows — think boiled lobsters in Maine, dried grasshoppers in Mexico, snails in France and sheep stomach in Scotland.

In Amsterdam, two artists are trying to widen their city's list of local tasty creatures — and expand minds, too — with dishes like the My Little Pony Burger, Peace Pigeon and Bambi Ball.

Their project, The Kitchen Of The Unwanted Animal is a food truck and specialty food provider featuring animals that are, generally, considered pests and almost always considered inedible.
To read the full story please visit The Salt.