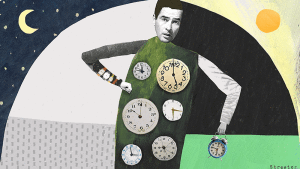 We humans are time-keeping machines. And it seems we need regular sleeping and eating schedules to keep all of our clocks in sync.

Studies show that if we mess with the body's natural sleep-wake cycle — say, by working an overnight shift, taking a transatlantic flight or staying up all night with a new baby or puppy — we pay the price.

Our blood pressure goes up, hunger hormones get thrown off and blood sugar control goes south.
To read the full story please visit The Salt.