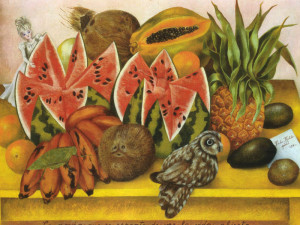 The life of Frida Kahlo seems tailor-made for an opera: pain, love, art, travel and revolution. So the Michigan Opera Theater's decision to mount a production of the opera Frida, opening Mar. 7 in Detroit — where the iconic painter lived with her husband, Diego Rivera, for nearly a year, and where she survived a miscarriage that marked a turning point in her art — isn't so surprising.

But here's something that is: The opera is celebrating not only Kahlo's art and life, but her recipes and cooking, too.

Kahlo's passion for food was evident in her many lush, still lifes of fruit. But she was also known for her raucous dinner parties in Mexico City, replete with pulque, mescal, mole and tamales.
To read the full article please visit The Salt.