Hunger as Great as an Emptied Room
by TJ Jarrett
You can make a dinner for the missing—you can sift the cornmeal, scrub
the greens and wait. You can count the forks, imagine a delightful conversation
for moments like these—when did you know you could not return?— and wait.
You can slice the tomatoes, the onions, the beets. You can set the table for two,
gather the flowers, fluff the seat, open the door and wait. You can run your fingers
through your hair or brush it till it shines. You can ask your mother, your neighbor,
you can ask God himself, beg forgiveness and wait. You can call out
to the darkness—are you there? Are you there?—and wait. You can
do it tomorrow; you can do it on Thursday. You can wait while night chases day.
---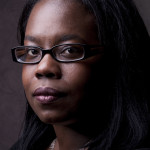 TJ Jarrett is a writer and software developer in Nashville, Tennessee. Her recent work has been published or is forthcoming in Poetry, African American Review, Boston Review, Beloit Poetry Journal, Callaloo, DIAGRAM, Third Coast, VQR, West Branch and others. She has earned scholarships from Colrain Manuscript Conference and Vermont Studio Center; fellowships from Sewanee Writer's Conference 2014 and the Summer Literary Seminars 2012 and 2014; the 2014 VQR Emily Clark Balch Prize for Poetry,  a runner up for the 2012 Marsh Hawk Poetry Prize and 2012 New Issues Poetry Prize; and her collection The Moon Looks Down and Laughs was selected as a finalist for the 2010 Tampa Review Prize for Poetry. Her debut collection Ain't No Grave  (finalist for the 2013 Balcones Prize and the 2014 Debulitzer Prize)  is published with New Issues Press  (2013). Her second collection Zion  (winner of the Crab Orchard Open Competition 2013)  was  published by Southern Illinois University Press in the fall of 2014.