Bites: S
by Michael Goldstein
S'MORES: It is within the flames of destruction that deliciousness is born.
SALMON:  Upstream we go to new possibilities.
SARDINES:  Do not clump your plans like the can clusters fish.
SCOOBY SNACKS: Bribery builds character.
SKITTLES: The rainbow tastes like moldy haggis
SOYLENT GREEN: Introducing new Canadian and Asian flavors!
STEAK: This is a well-done, juicy epic that sizzles with artery adventure.
STRAWBERRY: The berry is the page and the seeds are the story.
SUNFLOWER SEEDS: Warning: will not actually grow zebras
SWEDISH FISH: Said one critic, "En geshfr de feeshee oof chreestmeshes!"
---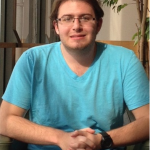 Author, Michael Goldstein, graduated in 2013 from Clark University with a B.A. in English, and a specialization in Creative Writing.  He's had a passion for Japanese folklore for many years, and his illustrated novel, Omagatoki: When Yokai Emerge, and the Yokai Character Collection best demonstrate his interest and knowledge, with their wide galleries of monsters stemming from the past.  Michael has been a featured speaker at recent Anime conventions across the country.  A New Jersey native, Michael currently lives in New York City, where he is enrolled at The New School.  Visit Michael at yokaicomposed.wordpress.com, and follow him on Twitter @MichaelandYokai.
'Bites' is a 26-part series, released in bite-sized posts over the better part of February. Dig in!