Grdn
From behind the glass door, signs of outdoors
deer on their way home, a frame of sun-chapped
geese riding the wind branch, people leaving trails
of leisure. My unambitious chair, poised and
waiting to be born, exposes unrehearsed tomatoes,
the mulched, the mucked. Fingerprints everywhere.
A home made that produced no jewels & no jewel
yams on a dirty page. Can't mend itself. Mother Nature
lectured those tomato mothers not to rush the season,
think patience through.
The sky looks pale on navy. A Blueprint of garden.
Who explained it to me first that this wrist would
embody so little? Temperatures of the night sky.
---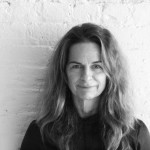 Susan Bruce was an actress in New York City for 21 years acting in plays on Broadway, off-Broadway and regionally. Her favorite role was Harper in Pulitzer Prize winning Angels in America in 1996. Susan has an MFA from NYU. Currently she studies writing at The New School with Patricia Carlin and Kathleen Ossip. Her poems have been published by Barrow Street, Dirty Chai, Finery, Luna Luna, Minerva Rising, Women's Studies Quarterly, Written River, Open Rooms and 34th Parallel. Finishing Line Press will be publishing her Chapbook, Body Of Water, in 2015.