The ensemble nature of a cast iron skillet
Zucchini know deeply
an onion chorus, garlic
graffiti and pinches
of oregano. Their
welcoming home
has always been
big enough for every
one and one more.
Cauliflower has
a sensitive head
gets headaches
acts shocked
under the waterfall
of olive oil.
Always checks the box,
Caucasian.
Kale and spinach
gritty and three legged
lose balance under
the fluorescent light
their blood pressure wilts
in a still life, wounded
as well, in a porch salad.
Carrot mumbo jumbo
liquid tanned and
Hollywood plant agenty
appreciative of the quick life
(in it for the fun) knowing
no one can possibly hate
the color orange.
Immigrant Edamame
hiding undetected
in the freezer
(too late to get away)
faces deportation.
Mushrooms loom
tiny witches with rings
around their eyes
astral ambassadors
delegates of mystery
in search of water guns.
Broccolini PhD
the Harvard thinking
Green Grad wrote a thesis:
"Possibility and Potential,
The Leggy Vegeta-belles"
comfortable counting
broccoli skulls.
Beans toss their tails
ozone curious, aero-
dynamicably aware
ask how come
the top matches the bottom
the delicious and the dreadful
how come seeds are
first ones forgotten?
---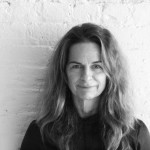 Susan Bruce was an actress in New York City for 21 years acting in plays on Broadway, off-Broadway and regionally. Her favorite role was Harper in Pulitzer Prize winning
Angels in America
in 1996. Susan has an MFA from NYU. Currently she studies writing at The New School with Patricia Carlin and Kathleen Ossip. Her poems have been published by
Barrow Street
,
Dirty Chai
,
Finery
,
Luna Luna
,
Minerva Rising
,
Women's Studies Quarterly
,
Written River
,
Open Rooms
and
34th Parallel
. Finishing Line Press will be publishing her Chapbook,
Body Of Water
, in 2015.