Bites: P
by Michael Goldstein
PANCAKES: The earth is your pancake.
PEACH: "For the last time Sally, your little brother isn't coming from space."
PEANUT BUTTER CUPS: Eat two at a time so they'll never be alone.
PEANUT BUTTER & JELLY: TIME!
PEANUTS: Who knew elephants were big fans of belly dancing?
PEAR: Damn, that's a fat ass!
PEAS: A social person will not be troubled by closed spaces.
PINEAPPLE: Even pinecones need a vacation.
PIZZA: The story of this magical invention is too cheesy to fit into one sentence.
POPCORN: If you listen closely you can hear eggs hatching
PORK: Pork does not make pork.  It'll just run away.
PORRIDGE: The number one dietary supplement recommended by bears
POTATO: The skin saturning around its planet collects the history of food.
PRETZEL: Don't be salty.  Twist peoples' expectations and make something fresh.
PUMPKIN: They're so happy after the liposuction.
---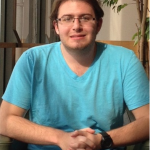 Author, Michael Goldstein, graduated in 2013 from Clark University with a B.A. in English, and a specialization in Creative Writing.  He's had a passion for Japanese folklore for many years, and his illustrated novel, Omagatoki: When Yokai Emerge, and the Yokai Character Collection best demonstrate his interest and knowledge, with their wide galleries of monsters stemming from the past.  Michael has been a featured speaker at recent Anime conventions across the country.  A New Jersey native, Michael currently lives in New York City, where he is enrolled at The New School.  Visit Michael at yokaicomposed.wordpress.com, and follow him on Twitter @MichaelandYokai.
'Bites' is a 26-part series, released in bite-sized posts over the better part of February. Dig in!