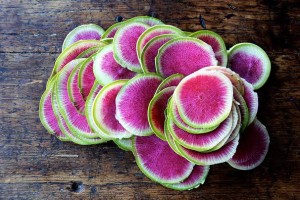 This past Thanksgiving, one kitchen triumph sparked a series of successes, leaving me wishing the season of entertaining would never end.

Let's start from the top: Boulangere's chicken liver pâté, which inspired lengthy discussions and much praise, earned a permanent spot on my holiday table. And then, the presence of leftover pâté in my fridge paved the way for bánh mì sandwiches, otherwise a rare treat, to enter my regular meal rotation. And then, because bánh mì sandwiches are nothing without that bite of pickled carrots and daikon, I found purpose for the stash of watermelon radishes occupying my fridge's vegetable drawer — it turns out watermelon radishes, an heirloom variety of the Chinese daikon radish, make a great pickle.

Happy guests! Culinary prowess! Bánh mì sandwiches! Not a radish wasted! Could this fortuitous cycle continue? It could, and it has, but not without one caveat: Pickled watermelon radishes smell about as inviting as a hockey bag left in a car trunk for a week. Truly, opening a jar of these pickles is risky business, an act proven to send toddlers running and adults shuddering.
To read the full story and to find out how to pickle watermelon radishes go to Grist.org.