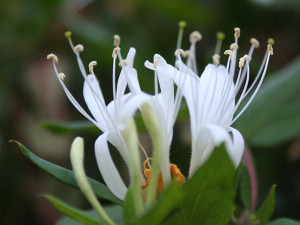 To Understand What It's Like
by TJ Jarrett
lying with him afterward is to understand that the bell
of the honeysuckle—bent toward the four directions,
bruised by rain— is separate from the plant itself.
The act of flowering, the production of those honey clogged trumpets,
exists solely for the perpetuation of new
shoots in its own image. The stem no doubt is resentful. The
leaves outshone. They gossip among themselves
beneath the blossoms,  behind their dewy
backs: they can't bloom forever, they must know
 that they are just sex parts for the world
        to see. The roots heave, sprawl, silently
reclaim the earth. The trumpet knows it circles organs
without ears, sings to no one in particular,
secrets it sweetness but not its scent,
sighs contentedly on its passage to seed.
---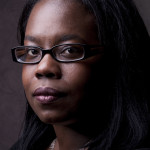 TJ Jarrett is a writer and software developer in Nashville, Tennessee. Her recent work has been published or is forthcoming in Poetry, African American Review, Boston Review, Beloit Poetry Journal, Callaloo, DIAGRAM, Third Coast, VQR, West Branch and others. She has earned scholarships from Colrain Manuscript Conference and Vermont Studio Center; fellowships from Sewanee Writer's Conference 2014 and the Summer Literary Seminars 2012 and 2014; the 2014 VQR Emily Clark Balch Prize for Poetry,  a runner up for the 2012 Marsh Hawk Poetry Prize and 2012 New Issues Poetry Prize; and her collection The Moon Looks Down and Laughs was selected as a finalist for the 2010 Tampa Review Prize for Poetry. Her debut collection Ain't No Grave  (finalist for the 2013 Balcones Prize and the 2014 Debulitzer Prize)  is published with New Issues Press  (2013). Her second collection Zion  (winner of the Crab Orchard Open Competition 2013)  was  published by Southern Illinois University Press in the fall of 2014.