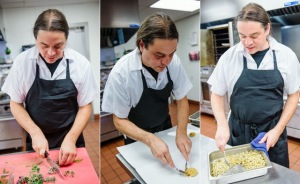 Chef Sean Sherman grew up Ogallala Sioux on the Pine Ridge Reservation in South Dakota. After working his way up through a number of kitchens in Minneapolis, Minnesota, Sherman decided he needed to strike out on his own. In April, he launched his event as "The Sioux Chef." And he's working on a restaurant of the same name.

Sherman offers his customers "pre-colonization" cuisine, a term used by , who founded the Native American Culinary Association, and writes at the blog Decolonial Food for Thought. With media coverage from sources like NPR and Al Jazeera, Sherman's unusual approach is earning him accolades and bringing in the customers. But getting here hasn't been easy.
To read the full article please visit Civil Eats.