Anniversary
Wiping a smear of chocolate
from your cheek, our arms tangle
over the bowl of batter
you've thinned with a cup of oil,
sailing a second licked finger through it,
discoverer of a pleasure
actually intended to be
as momentary as it is,
the anticipation of finality being the thing
that makes it good.
I have laced your anniversary dress
for the lit mirror, I have
loosened a tight black tie
over the ceremonial meal,
almost certain, for a moment,
that I wanted nothing,
that a wish's realization need not
undermine what was hoped for,
unimpressed by the usual determinants
of sorrow, their inadvertent companionship
which becomes a kind of life.
Even so, better to reconcile
desire with what is
merely adequate, with what can't go on:
a dance beneath this
fizzing kitchen light, clumsy and unattended,
a heated steel scoop
carving a globe of ice cream,
an extra something
to go with the cake we made,
just because.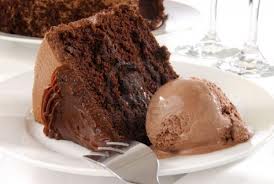 Gianmarc Manzione received his MFA in creative writing at The New School in 2004. His work has appeared in The New York Times, The Paris Review, The Southern Review, and elsewhere. This Brevity, his debut collection of poetry, was published in paperback in 2006. Pin Action: Small-time Gangsters, High-stakes Gambling, and the Teenage Hustler who Became a Bowling Champion, is forthcoming from Pegasus Books in 2014. 
Each month TIE highlights a contemporary poet who presents three poems and one personal essay in which food is consumed, passed over, or reckoned with.  Gianmarc is our poet for December, 2013.