by Andrea Vocos
Republished from The New School Free Press
At a Goodwill in the South Bronx, Heidi Hynes and her 8-year-old daughter deliver two bags filled with carrots, onions, potatoes, lettuce, and other produce to a man in the neighborhood. The area has quite a few fast food places are in the area, but no full-scale grocery stores. The man owes her some cash for previous grocery deliveries, but she gives him the produce anyway. One of the weekly grocery drop-off sites for La Canasta, a Crotona, Bronx-based group, is in the neighborhood.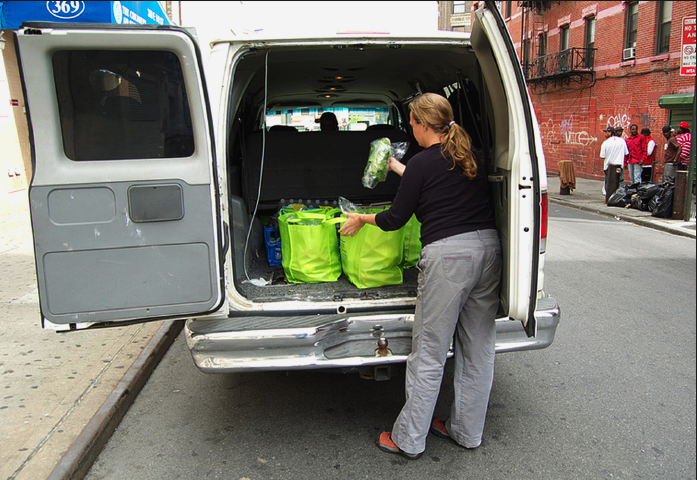 La Canasta, a food-buying group in which members pay weekly for fresh produce, was founded out of the Family Health Challenge at the Mary Mitchell Family and Youth Center, an organization that attempts to improve quality of life for families and youth in the South Bronx.
The program's goal is to help families make healthier choices and have access to more nutritious food while targeting the high rate of childhood diabetes and obesity in the Bronx — among the highest in the nation.
According to the New York City Department of Health and Mental Hygiene, nearly one in four public elementary school students in the South Bronx is obese, and nearly one in six public high school students is obese. The adult rate of obesity in South Bronx is one in four, and two in three are overweight or obese.
While the reasons behind these health issues vary from household to household, some concerns remain the same for many in the area: financial and geographic accessibility to nutritious food — and freedom of choice.
"We don't live in a food desert, we live in a food swamp," said Heidi Hynes, executive director of the Mary Mitchell Family and Youth Center and founder of La Canasta. "It's just got too much food that is not good, so there's a lot of processed food, which is not healthy. But on top of that, the fruits and vegetables are such low quality that it's hard to encourage people to eat them."
The South Bronx is no stranger to complaints about food availability. For the last 10 years, experts have labeled the area a 'food desert', an area where access to fresh food is limited. The lack of variety has led to a recent growth of a local, national and global movement of awareness and activism: food justice.
The aim of food justice is to build a fair and just system, which provides equal access for all citizens to nutritious, fresh and natural, unmodified food. Food justice concerns include knowledge of where and how food grows, fair wages for farm workers, affordability, and access.
On a global level, food justice also calls attention to "land grabs" — where companies purchase large plots of land in developing countries, sometimes resulting in raising local prices and kicking people off their land. As reported by Oxfam International on September 22, 2011, more than 20,000 people of the Mubende and Kiboga districts in Uganda were evicted from their land by the New Forests Company.
"Up until about 10 years ago, I had never heard of the term 'food justice,'" said Bill Ayres, executive director of WhyHunger, a national organization based in New York City that supports grassroots efforts to end hunger and poverty.
"But now, it's catching on quite quickly," he said. "I think that's because it's an idea that people all over the country and world can identify with. After all, we humans need food, and we also need justice. To have these two words come together really brings strength to what we do."
****
Hynes' program, La Canasta, addresses the issue of access through her grocery delivery program. Since April 2011, Hynes has sold grocery bags filled with produce and drops them off at areas in the Bronx, such as St. Simon Stock Parish, The Northwest Bronx Community and Clergy Coalition, Refuge House, and Concourse House — who provide transitional housing to prevent homelessness.
La Canasta runs much like a community supported agriculture, or CSA — a program where individuals pay a share towards a local farm and receive periodic deliveries of produce.
While CSAs provide produce through a specific regional farmer, La Canasta sources its groceries at a farmers market in Hunts Point. The price ends up costing less than others, some that reach triple digit prices. One bag of La Canasta groceries costs $25 and contains four types of fruit, some sort of salad vegetable, two different green vegetables, and a grain product.
"Our interest is in helping families who are really not food snobs, foodies at all," said Hynes. "They're people who just have really bad choices, so we want to help make an intermediate choice."
The Family Health Challenge, the program that inspired La Canasta, encourages kids and families to make a healthy change in their diet and behavior for six weeks. It received a grant from the Simon Bolivar Foundation to help start and initially fund La Canasta.
La Canasta does not have a website, and spreads purely by word of mouth.
****
Other non-profit organizations, urban farms, and grassroots programs similar to La Canasta exist around the city, many of which are volunteer-run.
One group that helps gather and organize volunteers for these grassroots efforts is the Brooklyn Food Coalition. Nancy Romer, general coordinator for the Coalition and a psychology professor at Brooklyn College, formed the coalition in 2009.
The Coalition's function is to support grassroots efforts that promote affordable and healthy food, sustainable agriculture, and justice with food workers. It helps gather volunteers to work on various urban farms, helps people start their own community farms or gardens, works with organizations that to school food organizing, and tries to get people to shop at local farmers markets, among other functions.
Romer says access to healthy and fresh food is a middle class privilege, unable to be found in neighborhoods like Bed-Stuy, Bushwick, Brownsville and East New York.
"If you go to a low-income community, you see people struggling with all this weight and it's not just because they make bad choices," Romer said. "If you're someone who feels pretty defeated about your life, it's very unlikely for you to be going miles out of your way to find fresh fruits and vegetables."
****
The rise of the food justice movement is not, of course, a New York City phenomenon. Neither are the issues of it seeks to amend, those involved with the field say.
According to the National Health and Nutrition Examination Survey of 2009-2010, more than one-third of U.S. adults are obese, and approximately 17 percent of children and adolescents ages 2 to 19 years are obese.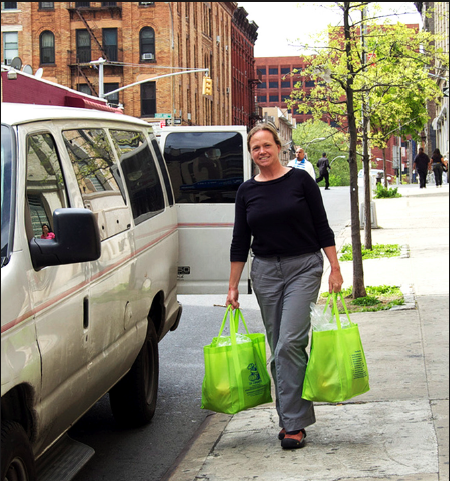 A report conducted in September 2011 by the United States Department of Agriculture showed that 14.5 percent of households were "food insecure," or lacking stable food accessibility, in 2010 — the highest ever recorded in the U.S.
While the Brooklyn Food Coalition focuses on supporting local organizations, some groups, such as Ayre's WhyHunger, do similar work on a global scale.
Ayres co-founded WhyHunger in 1975 with the late Harry Chapin, and currently serves as the executive director. WhyHunger began as a response to Ayres' initial question — "Why is it that we are the richest country in the world, and yet poverty and powerlessness plague our citizens?"
The organization supports, connects and works with more than 8,000 organizations nationally and globally. In addition to grassroots connections, it runs programs including the National Hunger Clearinghouse hotline, where food-insecure people are directed to food pantries; soup kitchens; government programs and emergency food supplies.
For WhyHunger, the Brooklyn Food Coalition and La Canasta, although their methods and definitions of food justice may vary, the end goal remains the same: improving the food system.
"I would love to imagine a world without hunger and poverty," Ayres said. "I do it everyday. That dream inspires everything we do."
Reporting by Danielle Balbi, Harrison Golden & Brianna Lyle